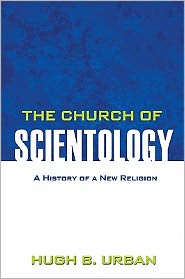 L'auteur de ce nouveau livre, «The Church of Scientology, A History of a New Religion», Hugh B. Urban, est professeur d'études religieuses à l'Ohio State University.
Il s'agit d'un regard neutre sur la Scientologie et son histoire, le travail d'un membre du milieu académique qui se questionne entre autre sur la définition d'une religion, sur qui a le droit de déclarer un mouvement comme religieux et, surtout, de l'impact que cette reconnaissance peut avoir sur la société.
Urban fait aussi mention d'Anonymous...
Il est à la page et on ne peut pas, comme d'autres, l'accuser d'être un apologiste des sectes.
À lire absolument.
Pub. Date: August 2011
Publisher: Princeton University Press
Format: Hardcover , 296pp